Indo-China War: Is It Right Time To Retaliate?
With tensions between India and China rising, the call to boycott Chinese products and mobile apps is growing massively. Boycotting Chinese products has been in news for a long time, but no signs of such steps have been evidenced either from government or public. The move rose to more prominence after 'Sonam Wangchuk called for a massive movement to uninstall Chinese apps.
But recent events have taken a big leap, with the Indian Government stating that Chinese illegally occupied 640 sq.km of the Indian Territory. The intensity of the situation further skyrocketed with Chinese troops killing 20 India Soldiers in the Galwan Valley.  With this event, the #Boycottchinese movement is scaling further.
So, the question is 'Will the replacement/ ban on all Chinese products happen in a day, and to what extent will we able to counter China in the trade war?'
Right from the 1962 war, the agenda of China is clear, and we too know that they occupied our land more than what Pakistan did! So, it's obvious that China is in our enemy radar list, but we have been silent on its severe actions knowingly, considering the trade factor.
First Step in this Direction: Analyse China Investments in India
From automotive parts to high-end technology manufacturing, the Indian industry has a Chinese footprint everywhere! One of my friends, a mechanical engineer who develops his own products, speaks about the level of dependence on Chinese equipment. Even the equipment we get from local vendors are sourced from China and sold at 50% more price.
India is one of the largest importers of Chinese products and the Chinese products imports are seven times than what India exports to China. During the 2018-19, China held only a 5.08 percent share of Indian exports and exported 13.8 percent to India.
India's trade with China was close to 87 billion dollars during 2018-19, mostly on raw materials and spare parts.
Chinese brands' share of India's smartphone market was close to 66% during Q1 2019.
Chinese FDI in India is $ 6.2 Billion as of FY 2018-19
China tech investment in Indian start-ups accounts to $4 billion:

Is India Prepared for War with China? If So, Is It Right Time?
The answer is 'No'! If yes, we wouldn't have lost 20 of our army men in the recent clashes at the Ladakh border. Moreover, there is clear intel info and everyone in the country knows they have occupied 690kms of our border and we are calm even on it.
The delay in negotiations is not mere buying of time by Chinese. If we observe the granularity and impact of the situation in the recent crucifying act of China, it clearly shows the event that happened with full preparation. The Chinese activity of bringing in machinery to dig near LAC prior to clash was confirmed in the satellite images provided Prior to clash by Earth-imaging company Planet Lab.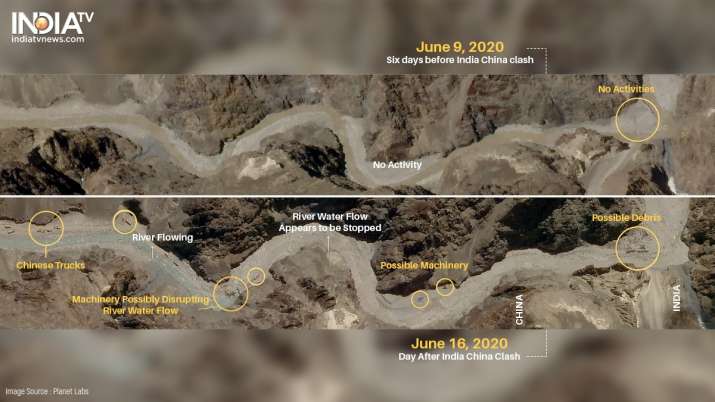 Figure: Satellite Images provided by Planet Labs Suggests Chinese Infiltration across LAC 
The point is we were not prepared! To some extent, our government has been acting very thoughtful after the incident without blindly getting into the war, even though some section of people is expecting to act in a filmy style on China.
Moreover, it's not advisable for our country to get into war looking at the economic state of the country due to Covid-19 and the upcoming recession. Even if we get into the war and win, what we have currently is insufficient to fill losses. That will push us 15 years back in the pace of development considering our current infrastructure and development ecosystem.
It's not the time for emotions! We need to be thoughtful to save our soldiers' lives and the country's economic status, as the actual recession is yet to come in a year or so.
I feel the situation is very bad! When the normal public itself is with 'crossed fingers' on the issue, think how it would be for Modiji and Dovalji! It's even not the time for the media and opposition parties to run a blame game on our government. It's high time for the entire nation to come onto one platform and stay together!
How Can India Beat China? An In-depth Analysis
"While encouraging other economies to depend on it, China has cleverly "avoided dependencies, creating protective trade barriers and positioning itself to control strategic areas from rare earths and pharmaceuticals to advanced manufacturing."-  ALON DUPONT
Boycotting phones, TVs, and Apps will not bring down China's economy. In fact, their business is more in spare parts, which are being used in almost every device we have in our house and offices throughout the world. Even the iPhone is manufactured and assembled in China. In fact, China is popular by its names as a 'manufacturing hub'! It is difficult even for the world to ban China despite knowing its game behind the Coronavirus pandemic.
So, beating China should happen in a mix of marathon and sprint. In the geopolitical game, no one is a trusted friend and none is a trusted enemy!
As it is a problem with China, we lookout for the US. What if the US dictates us because of oud trade dependency? For us, we are trained to believe that development means FDI when they bring in money, they own the control of the country's financial position.
Moreover, our country always has a failed record of encouraging local entrepreneurs and manufacturers. This the reason for our increased reliance on China for everything.
Despite having few manufacturers, lack of large-scale production requirements is making the pricing a concern for local manufacturers compared to imports from China. This is the reason why China phones have a 66% percent market share. Even the public can't be blamed because of the economic viability that Chinese products offer in attracting consumers compared to other competitors.
This clearly shows the dearth of support to local entrepreneurs in India, despite the country's top position in the world with mushrooming start-ups! The ease of doing business for start-ups is most unfavorable in India compared to larger corporations coming from outside. This is one of the prime reasons why Indian startups are failing!
To accommodate change and drive innovation, the first thing we need is the robust infrastructure set up to flourish. To fight present China or any other country, it's time to strengthen our indigenous systems robustly rather than selling out and dissolving Indian revenue-generating setups in the name of FDI. Once the infrastructure to accommodate change is in place, the change will happen by itself boosting the supply-chain.
Take a look at PM's 'Made in India' push calling for a self-reliant India. It's time for India Inc. to tap the untapped local potential. Only then we can secure ourselves and survive in the trade war and improve our geopolitical stance as the emerging superpower.